Durham pushing Metrolinx to stick to original plan for Bowmanville GO extension via Oshawa
DURHAM — With Metrolinx now considering four options for the extension of the GO train to Bowmanville, Durham support is coalescing around the originally proposed route that would see the extension run through central Oshawa.
At open house-style meetings held in Clarington and Oshawa last week, Metrolinx officials said the funding envelope for the long-discussed extension was $550 million, but the current cost estimate ranges from $721 million to $1.2 billion, based on requirements by Canadian Pacific Railway (CP), which owns the track that the train was slated to run on from Oshawa, east to Bowmanville.
As a result, Metrolinx decided to look at alternative routes for the extension.
Two options, including the originally proposed route, run mainly on the CP line via central Oshawa and the former Knob Hill Farms property, which would be a new GO station. In both cases, the Courtice and Bowmanville stations would be north of Highway 401.
A third option has the train running along the Canadian National (CN) line south of Highway 401, through a primarily industrial area, with the Bowmanville GO station located south of the highway. A fourth hybrid option proposes running the train south of Highway 401 through Oshawa, but then it would swing north to the CP line in Clarington, with Clarington stations located north of the highway.
According to Metrolinx, preliminary estimates show the third and fourth options are achievable under the current budget.
Representatives from Whitby, Oshawa and Clarington have all voiced their support for the original option, as has the Region of Durham.
Oshawa Mayor Dan Carter says he strongly believes Metrolinx should stick with the route identified in 2011, via central Oshawa, because that's the route that will create the most economic growth and job creation, and it will be supported by connections to active transportation.
The mayor said he understands the province is facing economic pressures, but he sees the project as an answer to those pressures.
"We have faced a lot of challenges and hurdles; this is a moment I need the premier to make a commitment to the prosperity and well-being of our community, not only for the year 2019, but for the next 50 years."
It's particularly important for Oshawa to see development on the former Knob Hill Farms property, Carter said, and the situation, so far, does not look positive, because Metrolinx has identified the two routes through central Oshawa as being high risk for both cost and timeline to completion, and the other two routes are considered low- or moderate-risk.
Jason Michel, a local real estate agent who attended the Oshawa public meeting, said he represents homeowners who would be negatively impacted if Metrolinx bypasses the area in favour of a southern route.
"My concern is Metrolinx is not going to be thinking about the greater development of Oshawa in the future; they're more just thinking about the easy solution to accomplish what they promised they were going to accomplish in getting quick and easy transit to Bowmanville but disregarding the needs that Oshawa, Courtice and Bowmanville have for quality," he said.
He said residents in the area have long been promised revitalization, but he said those promises won't be kept without the GO train, and vacant properties will remain vacant.
"If Metrolinx doesn't go through the centre of Oshawa, nothing will ever happen with this land, because it's a real mishmash of land, and it's just going to make that central area of Oshawa get worse."
Clarington Mayor Adrian Foster said both the municipalities and the region are frustrated with Metrolinx.
"We are happy that, finally, some dialogue is starting again, because there's been complete and utter radio silence. We were shocked when we looked at Metrolinx's website and it went from a project with a dollar amount attached in funding and a project in progress to one under investigation while Niagara — which was done in exactly the same fashion — moved ahead. And there was no heads-up to the stakeholders."
Three out of the four options under consideration would see the Bowmanville GO station located north of Highway 401, in the west end, where housing has popped up in anticipation of the new station.
"I've got a thousand houses whose property values will probably drop by 10 per cent or more; it's a massive hit," said Foster of a southern route. "People bought houses based on a promise, we developed a transit hub based on a promise of many, many years, so I've got all kinds of high density and no transit."
He points out the business case for the original route envisions the creation of 21,000 jobs and $1.1 billion in private investment. Both Oshawa and Clarington have said they are willing to contribute to the $150,000 cost of a business case for the newly proposed routes.
"The point would be looking at the best value, not the cheapest cost. This is going to be with us for a hundred years, so a hundred years from now people will be jumping on and off trains in Toronto and in the area, so we've got to worry about value, not cost," said the mayor.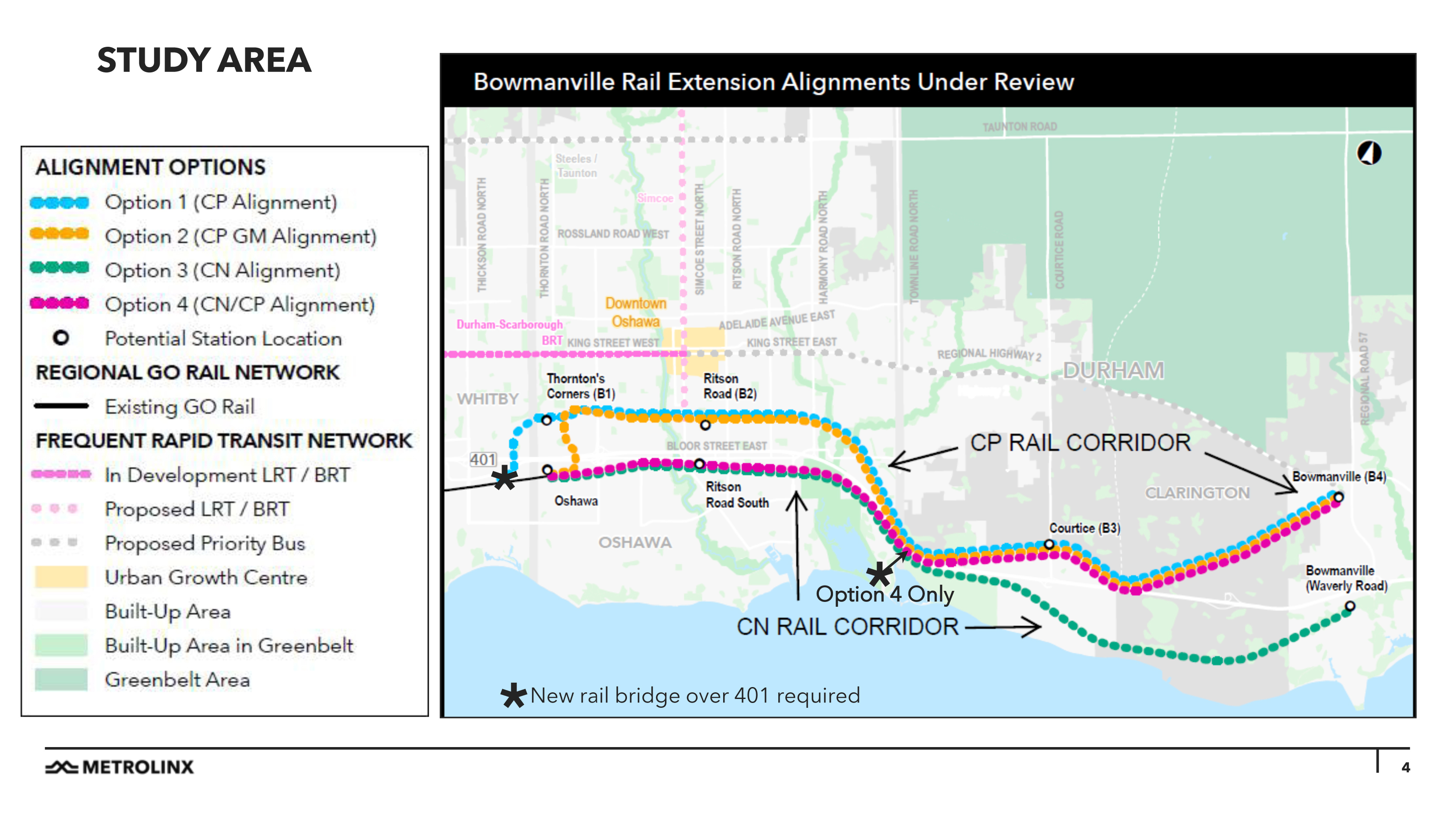 Dan Collins and Sarah Hutcheon, a married couple who have lived in Oshawa for about three years, also stressed the importance of looking toward the future, after attending the Oshawa public meeting.
"I just think that changing it, to options 3 and 4, is just short-sighted, and I think you should try to think ahead 20 or 30 years. We want people out of their cars and walking to the station; you need to build option 1 or 2," said Collins.
Greg Gormick, an Oshawa resident who regularly comments on rail and transportation issues and had consulted on railway issues, sees a lot of problems with running the railway on the CP line. He said CP will have to add a second track to allow for all-day service to Clarington via central Oshawa, so that freight traffic can flow.
He believes the easiest route should be selected, which is to run the train along the CN rail south of Highway 401, and points out that, with that route, the GO train can ultimately be extended into Northumberland.
"I guess what it comes down to it is they're looking at it in terms of land-use development, and I'm looking at it in terms of transportation and the ease of putting this in," he said.
At this point, Gormick's opinion seems to be something of an outlier; the campaign is gearing up in Durham to pressure Metrolinx to stick to the original route.
Feedback at the public meetings seemed to support the original route, as well.
"We had a very good turnout yesterday. People are very committed to the original option, some other folks wanted the other options, some people don't want the trains running beside their homes on the north side, but the majority of people were committed to keeping the option that was originally planned and that's still on the table," said Manuel Pedrosa, senior manager of Toronto East-Durham community and stakeholder relations for Metrolinx, during the Oshawa open house.
Reka Szekely is a reporter with Metroland Media Group's Durham Region Division.